Clinica Margarita
The Scandinavian dental clinic on Gran Canaria
Clinica Margarita
---
Welcome to Clinica Margarita. At our clinic, you will be offered the highest standard of service and will be treated by professional, Danish dentists in a modern, comfortable setting where safety and quality come first. We provide top class dental treatment to tourists who are seeking high quality dental care at reasonable rates.
Treatments
We offer a full range of dental care services – everything from regular dental check-ups to more extensive dental restoration involving implants, and fixed prostheses and bridges.
Our team of professionals
Our team of experienced Scandinavian dentists and dental assistants will ensure that the treatment you receive will meet the highest standards of safety, and will take place in comfortable surroundings in our fully-equipped, modern clinic. We speak Danish, Swedish, Spanish, English and German.
In cases of emergency
Contact us if you require emergency dental treatment. We will fit you in as quickly as possible. This applies to both tourists and residents. Du kan endda tage tilskuddet med. Vi hjælper med bolig og transport.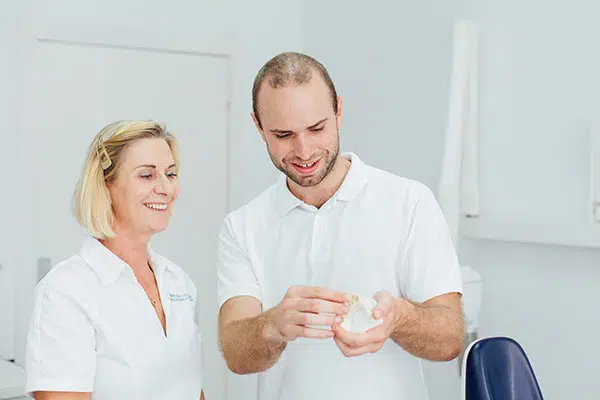 Our treatment
---
Nordic quality and expertise
Do you need a routine filing? Or more advanced treatment requiring high technology such as restoration work involving bridges and implants, or laser treatment for periodontitis? Our experienced Danish dentists can offer you exactly the right treatment that will meet both your needs and your budget. Our hygiene, equipment and service levels are first class, and the treatment you will receive fully lives up to exacting Nordic standards.
Do you need dental treatment?
Make an appointment, ask for more details about specific treatments, or get advice on the options available to you. Get in touch, so we can help you.